UTRIP Home
UTRIP Flyer
Welcome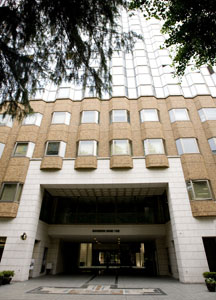 Welcome to the homepage of UTRIP (the University-of-Tokyo Research Internship Program). We launched the program in the summer of 2010 as a campaign to accelerate the internationalization of the campus. UTRIP is a program open to overseas students who are seriously thinking of pursuing a higher education in the fields of natural science and engineering at the University of Tokyo. It is not a "summer school"; it is an introductory program to the research environment. The main goal of UTRIP is to "inspire and motivate students to pursue careers in science." To enrich the research experience, UTRIP offers social and cultural programs, including a Japanese language course and a field trip to a historical site in Japan. UTRIP will be an academic and personal adventure for you. You will find your academic perception improves and your cultural horizon is also enriched through this program. UTRIP will be a truly life-changing experience for you.
Message from ILO
At the International Liaison Office (ILO), we recognize that the importance of an education program with a truly global perspective is increasing in response to the acceleration of globalization. And we now live in a world of increasingly interdependent nations and cultures, regardless of our careers and occupations.
One of ILO's responsibilities is to provide students with opportunities to experience the language and different values of a culture different to their own. We believe that through such experiences students will learn how to communicate across the barriers posed by custom, geography, and politics. Students will be able to enhance the skills that enable them to work on and analyze issues such as interacting in and between multiple cultures.
UTRIP is an academically and personally challenging adventure. The campus is situated in the very center of Tokyo, one of the most metropolitan cities in the world. Although it is a very sophisticated and modern cosmopolitan city, Tokyo still retains its historic landmarks, and Tokyoites are proud of their traditional manners and customs. UTRIP, however, is not just an ordinary summer school offering students the opportunity to experience a foreign culture and learn a foreign language. The objective is to provide an opportunity where students carry out an original research project under the guidance of assigned mentors at the Hongo campus at UTokyo. Through a full-time commitment, students will be able to improve their research skills and develop the skills to collect, interpret and analyze data. UTRIP will be helpful to students not only in terms of personal development, but also in terms of their academic career. Whatever your future holds, the time you spend here will be an undeniable asset.
We look forward to hearing from you and receiving your application.
Voices from UTRIP participants
UTRIP is a once in a lifetime experience that you shouldn't miss! If you are interested in the academe or the research industry, you should definitely apply for this program. Aside from the research experience and skills you gain, you will make new friends from across the globe and get to travel together. 
I think UTRIP is a very meaningful and enjoyable experience for me. The supervisor, tutor and staff here were really nice and I learned a lot from this research program.
Meet peer from all over the world, enjoy the sensation of making new discoveries, and open your door to Japanese culture and excellent people!
It's truly a blessing to have the opportunity to do novel research while experiencing the amazing city of Tokyo at the same time! I wish I could do the program again.
UTRIP was an amazing cultural, as well as academic, experience. I met people from all over the world who are interested in the same things as I am, and some of whom I am still friends with today.
An opportunity to experience both an amazing university and a fascinating country.