UTRIP Home
UTRIP Flyer
About UTokyo & School of Science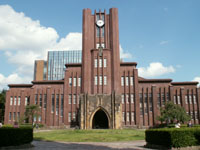 Overview of UTokyo
The University of Tokyo is the oldest and the most prestigious university in Japan, and it receives by far the biggest direct government grant. The university has five campuses, of which two (Hongo and Komaba campuses) are in the heart of Tokyo. The Graduate School of Science is located in the Hongo campus. The campus is situated in a sophisticated modern cosmopolitan city environment, but it is still surrounded by lush greenery. The campus features both traditional and modern buildings.
The Graduate School of Science consists of five departments: Physics, Astronomy, Earth & Planetary Science, Chemistry and Biological Sciences. There are 290 faculty members as of 2017. For further details: http://www.s.u-tokyo.ac.jp/en/
World University Rankings
The Times Higher Education (THE) World University Rankings and the QS Rankings are among the most influential and widely observed international university rankings.
UTokyo is ranked 46th in the world and 7th in Asia in THE (Times Higher Education) World University Rankings in 2018. Thomson Reuters also carried out its World Reputation Rankings – a worldwide poll of global academic scholars. The primary purpose of the survey is to quantify academics' opinions regarding both research and the teaching reputation of global academic institutions.
Also UTokyo is ranked 28th in QS University World Rankings 2018, 5th in the QS University Rankings: Asia 2018, and 9th in Natural Science in QS University World Rankings 2017 by subject.