UTRIP Home
UTRIP Flyer
Astronomy
Overview of the Department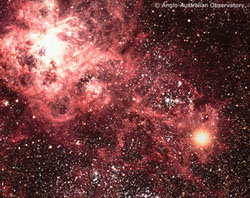 Astronomy education and research at the University of Tokyo began in 1877 when the University was founded and the Department of Astronomy was established together with the Mathematics and Physics Departments in the Faculty of Science. Since then, UTokyo's Department of Astronomy has been at the forefront of astronomy education and research at both the undergraduate and graduate levels, and has produced many outstanding astronomers.
The astronomy courses develop graduate students to function later as front-line researchers and educators in astronomy and other fields and to play central roles in international and interdisciplinary research projects. Graduate students strive to develop a high level of expertise, a willingness to challenge new tasks, and the ability and sense to open unknown research paths. Fully mindful of these educational objectives, faculty members provide students with advanced training in astronomy to meet their needs as future researchers. Although the number of faculty members in the Department of Astronomy is small relative to other departments in the Graduate School of Science, it is large by global standards. In addition, the fields covered by the faculty constitute the largest astronomy graduate course in Japan, enabling it to provide astronomy education that is not available at any other universities.
http://www.astron.s.u-tokyo.ac.jp/en/
Description of Major Research Groups
Optical and infrared astronomy
This group covers observational astronomy at optical and infrared wavelengths, ranging from observational cosmology, the formation and evolution of galaxies and galaxy clusters, stellar evolution, star-formation, and circumstellar physics to exo-planets and their formation based on observations with the Subaru telescope and other ground-based telescopes. Another major part of the activities of the group is the hardware development of optical and infrared instruments as well as large telescopes, such as the Tokyo Atacama Observatory (TAO) in Chile, which uses the latest technology.
Theoretical astronomy
This group covers a wide range of research fields of theoretical astronomy, including solar/stellar seismology, stellar astrophysical fluid dynamics, theory of rotating/magnetic stars, evolution of binary systems, formation of planetary systems, supernova explosions, gamma-ray bursts, cosmic rays and high energy astrophysics, formation and evolution of galaxies, N-body simulation, origin of elements, large scale structure, and cosmology.
Radio astronomy
The major fields of observational radio astronomy this group studies include the formation and evolution of galaxies, active galactic nuclei in galaxy clusters, interstellar physics in our galaxy and other galaxies, the center of our galaxy, and star and planet formation. This group is also playing a leading role in the hardware development of radio instrumentation, including that for the Atacama Submillimeter Telescope Experiment (ASTE) and the Atacama Large Millimeter/submillimeter Array (ALMA) in Chile, and that for very long baseline interferometry (VLBI) with ground-based radio telescopes and satellites.
Space astronomy
The space astronomy group is working actively on space missions, such as the Suzaku (X-ray), AKARI (infrared), and Hinode (solar) satellite missions. The group's major research topics range from solar physics, interstellar physics, star and planet formation, and high-density objects to black holes. The group is also involved in the hardware development of space telescopes and instrumentation for future space missions.