DATE2023.03.24 #FEATURES#The Rigakubu News
Meet Researchers in the Sciences Vol.5 Shogo Tachibana

Investigating why the planets are so colorful
 
Shogo Tachibana
Professor
Department of Earth and Planetary Science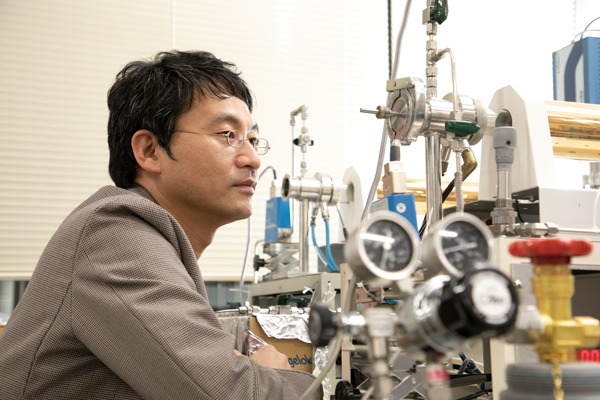 Shogo Tachibana received his Ph.D. from the Graduate School of Science at Osaka University in 2000. After working as a research assistant and assistant professor at the Graduate School of Science, the University of Tokyo, and as a lecturer and associate professor at the Faculty of Science, Hokkaido University, he assumed his current position in 2017.
Q. What was your favorite subject as a child?
A. I liked everything in general, except for PE in the summer. 
Whereas most of the other subjects required students to take tests based on reading and memorizing textbooks, I felt that I could do arts and crafts in a completely free environment.

Q. What books or textbooks would you recommend for students?
A. Kenji Miyazawa's children's stories 
I feel that they represent what it means to understand nature.
Q. What were you interested in when you were in middle and high school?
A. Voyager 2 Planetary Exploration
Voyager 2 flew past Uranus when I was in middle school and reached Neptune when I was in high school. I was looking forward to seeing what Uranus and Neptune looked like. This is what my scientist-like reply would be, but what I usually cared about were the next volume of Shonen Jump and the results of professional baseball games.

Q. What are your hobbies?
A. Reading
I feel like my research is almost like my hobby. Other than that, I enjoy reading. For the past few years, I have been reading novels from the Open Air Library (Aozora Bunko).

Q. Do you consider yourself lucky?
A. Absolutely.
I have made it this far thanks to all the people who surround me and the opportunities that I have been blessed with.
Q. Do you think aliens exist?
A. Yes.
I don't know how "aliens" are defined, but I do believe that extraterrestrial life forms exist.
ー Message ー
The universe is vast and contains an infinite variety of planets.

Enjoy the frustrating moments when the answers seem to elude you.
― This article is from the "Meet Researchers in the Sciences" series in The Rigakubu News ―

Translated by Office of Research Strategy and Development