DATE2023.07.24 #Events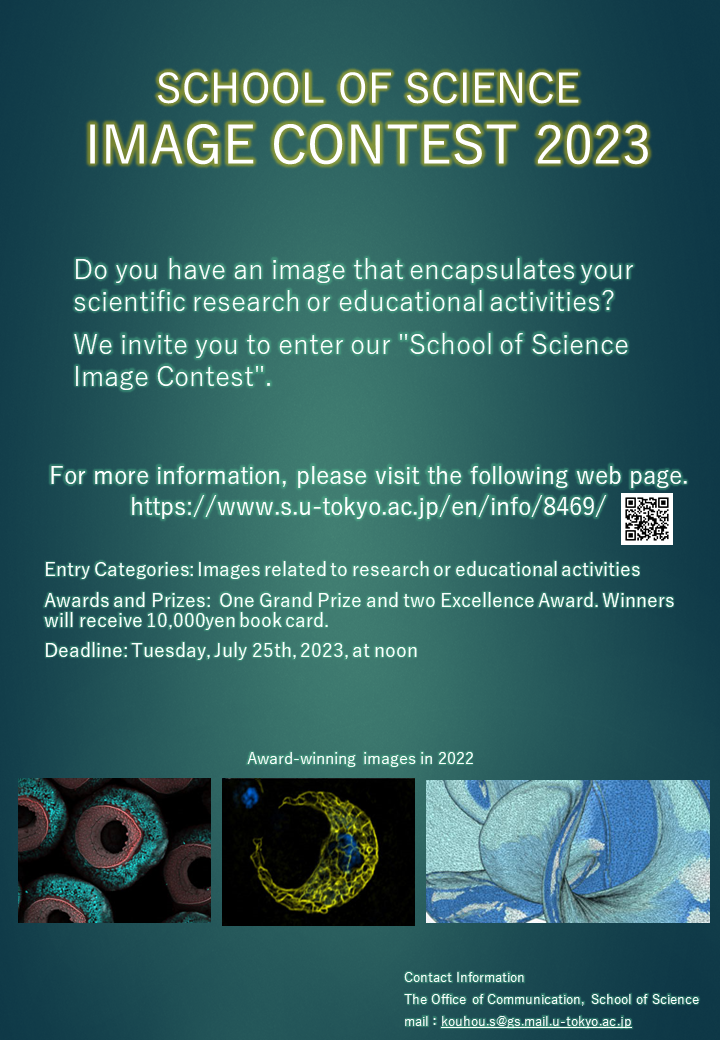 Do you have an image that encapsulates your scientific research or educational activities? We invite you to enter our "School of Science Image Contest".
Entry Guidelines
Entry Categories
・Images related to research (experimental materials, equipment, and observation data, etc.).
・Images related to educational activities at the university (pictures of the blackboard scene after class, etc.).
Awards and Prizes
| | | |
| --- | --- | --- |
| Award Name | No. of Winners | Prizes |
| Grand Prize | 1 | Certificate and 10,000 yen book card |
| Excellence Award | 2 | Certificate and 10,000 yen book card |
※Some of the entries will be entered into the Image Bank on the School of Science website. Entries may also be used for the 2024 School of Science calendar.
How to Enter
Submissions are now closed. Thank you very much for all the submissions.
Upload your images to the following link on the UTokyo File Transfer Service.
Please enter the following 5 items in the comment field when uploading.  
1.Full Name   
2.Department  
3.Position or Academic (Grade) Level   
4.email address   
5.Image Title (10 words or less) and Image Caption (50 words or less)
Deadline
Tuesday, July 25th, 2023, at noon
Eligibility
This contest is open to all faculty members, researchers, and students in the School of Science.
Submission Guidelines
・Entries and the persons depicted therein are restricted to images for which the entrant holds the copyright or for which the entrant has received the prior usage permission of the right holder.
・Images that have been posted on personal blogs or social media can be entered.
・Before submitting a image, the entrant is responsible for taking all steps necessary to protect the right of publicity and other rights of persons depicted in the image, including but not limited to obtaining their permission, to avoid any problems related to the infringement of these rights.
・There is no limit to the number of entries.
Image Guidelines
・Images that have been retouched by using camera apps, photo editing apps, other software, etc. will not be accepted.
・Both color and monochrome images will be accepted.
・File size: Maximum 20 MB image data
Judging Procedure
Entries will be rigorously reviewed by the Office of Communications committee members to determine one Grand Prize winner and two Excellence Award winners. Contest results are scheduled to be announced on this website by late September 2023.
Notification of Winners
Upon completion of the judging, winners will be notified by mid-September 2023 to their registered email addresses.
Disclaimers
・Entries are only accepted through the Internet.
・Entering the contest constitutes agreement to the terms and conditions stated in these Entry Guidelines.
※To see the winning submissions from previous years, please click here.
Contact Information
The Office of Communication, School of Science
| | |
| --- | --- |
| Phone | 03-5841-7585 PIC NII |
| email | kouhou.s@gs.mail.u-tokyo.ac.jp |