Interview with Wenyu
Wenyu comes from a small city in China and was a student at Fudan University in Shanghai before transferring onto the Global Science Course.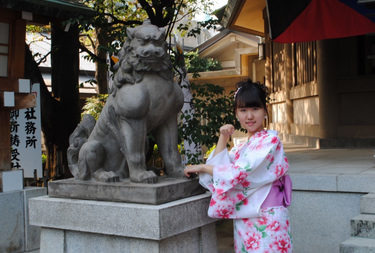 Wenyu dressed in traditional Japanese yukata
What motivated you to apply to GSC?
I like Japan very much! Before I came here, I had been into Japanese animation for over 10 years and had studied Japanese by myself.
How did your friends and family react to your decision to apply to this program?
They thought it was great. Transferring to a university in a different country gives you the chance to interact with people from other nationalities. This is a rare opportunity.
What makes GSC a unique program?
It's very academic here, we do experiments every day. The classes in GSC are small so you get a lot of individual attention. I have learned a lot from speaking to the professors face to face.
What have you learnt through being a student on GSC?
Before I came here, I wasn't sure which branch of chemistry I wanted to go into. However, after doing rotations between 6 laboratories on this program, I've been able to understand a lot more about chemistry. After my experience at the Suga lab, I now know that I want to continue studying bio-organic chemistry.
Could you tell us about a memorable experience you've had on GSC?
Yesterday, for example, was my first day at the Nishihara Lab. To welcome me, Professor Nishihara asked two assistant professors and two other graduate students to join. The five of them asked me a lot of questions about my experiences, everyone was very kind. These types of opportunities are rare for undergraduate students.
Also, last year we had a farewell party for a former assistant professor in the Nishihara lab. Along with a couple other assistant professors, the GSC students took him out for a meal at a Chinese restaurant. We gave him a fantastic farewell party.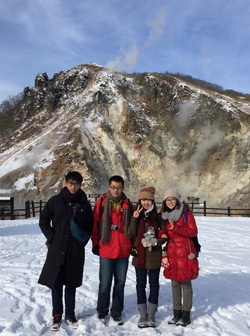 On a trip to Hokkaido:
Wenyu with three other GSC students.
Have you had the chance to travel in Japan?
Yes, I've been to Okinawa and Hokkaido. My favorite memory is drinking Sapporo beer in Hokkaido.
Would you recommend GSC?
Of course! I've already recommended it to a lot of my prior classmates at Fudan University.
What advice you would give to someone applying for GSC?
After arriving in Tokyo, I felt confused about my new environment and my future. I spent one year trying to find out what I wanted to do. Now I know. I would advise students who want to apply for GSC to think clearly about what they want.
What sort of person makes a good GSC candidate?
Someone who is proactive when it comes to asking questions and creating opportunities for themselves.