Introduction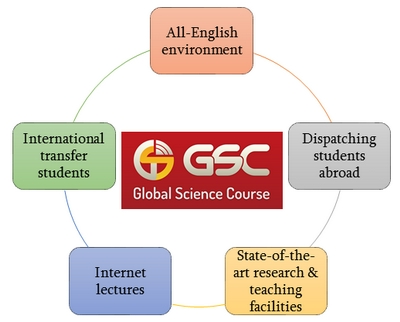 Launched in April 2014, Global Science Course (GSC) is the first-of-its-kind in the University of Tokyo. The course is established in the School of Science to foster future leaders in an international environment.
GSC Undergraduate Transfer Program
Students from abroad selected for GSC are accepted into the third year of undergraduate studies at the Faculty of Science.
Lectures in GSC are delivered by world-leading professors in the School of Science. In addition, renowned professors are invited from abroad to deliver special lectures and seminar talks.
The GSC curriculum covers a broad range of subjects. Traditional core areas of science are integrated with advanced concepts, which allows students to build a solid foundation of knowledge while giving them the opportunity to embrace new challenging areas at the same time. All courses are delivered in English to eliminate language barriers in acquiring knowledge and skills as well as engaging in active discussions.
During their two years with us, students are exposed to various fields of science to further expand and broaden their knowledge. Upon fulfilling all graduation requirements at the end of the program, students are awarded with a Bachelor of Science degree from the University of Tokyo.
GSC Domestic Students Program
Launched in December 2014, current University of Tokyo students who are advancing to the Department of Chemistry are eligible to apply for this program. Under the Domestic Students Program, students have the opportunity to take English language education courses and participate in short-term research programs abroad.
University of Tokyo Rankings
1st Times Higher Education Asia University Rankings 2015
43rd Times Higher Education World University Rankings 2016
39th QS World University Rankings 2016
8th Chemistry, QS World University Rankings by Subject 2016
8th Physics & Astronomy, QS World University Rankings by Subject 2016
Link to the University of Tokyo Homepage.
Link to the School of Science at the University of Tokyo.
Link to the Department of Chemistry.