Visa
1. Visa for admission into the University
College Student Visa is required to enroll in the University of Tokyo. GSC Admissions Office will mail the necessary documents to the students who are successfully admitted into GSC. Students will fill in the documents and send them back to the GSC Admissions Office. We will mail "Certificates of Eligibility (COE)" to students in accordance of the documents. Students will apply for the visa at the Embassy or Consulate of Japan in their home countries when the certificates arrive. The terms and conditions of the visa differ depending on your student status.
As international students coming to Japan intending to study and conduct research at university, they are assigned the status of residence "college student." Part-time work is not permitted under this status unless permission is granted by the Immigration Bureau.
To apply for this permission, submit the prescribed application form and other required documentation.
Application Procedures
Submit the items listed below to an Immigration Bureau office in person. If the request is approved, the certificate of permission will be issued in about two to three weeks after the application.
You can simultaneously apply for an extension of your period of stay along with this application for part-time work permission.
Furthermore, as mentioned in point 2 of Item 1-2 Procedures for Entering Japan regarding application for 'Permission to Engage in Activities other than that Permitted under the Status of Residence Previously Granted', it is now possible to make the application at the port of entry.
Items Required for Application
Application for Permission to Engage in Activity Other Than That Permitted under the Status of Residence Previously Granted (available at Immigration Bureau offices, and downloadable from the Ministry of Justice's website)
Residence card or alien registration certificate regarded as the residence card
Passport
Notes
International students of the University of Tokyo do not need to obtain this work permit when they work as a Research Assistant or Teaching Assistant at the University.

Be sure to notify the administrative office of your faculty or graduate school when you receive the work permit to do a part-time job.

International students are only allowed 28 hours of part-time work per week, and 8 hours a day during summer or winter breaks.

Part-time work is not permitted during leaves of absence from the university.

The spouse of an international student residing in Japan as a dependent is required to obtain the similar type of work permit if he or she wishes to engage in part-time work.
3. Special Re-entry Permits *The following information is published in International Student Handbook
Previously, a "Re-entry Permit" was required to temporarily leave Japan during your period of stay. However, under the new residency management system, those who will be re-entering Japan within one (1) year of departure to continue their activities in Japan, in principle, will not be required to apply for a re-entry permit. (This is called a special re-entry permit.)
However, in cases where your period of stay expires within one year of temporarily leaving Japan, please re-enter Japan before the expiration of your period of stay.
Please check the box on the embarkation card for re-entrant to use this system. The system is free of charge.
http://www.immi-moj.go.jp/newimmiact_1/en/point_3-4.html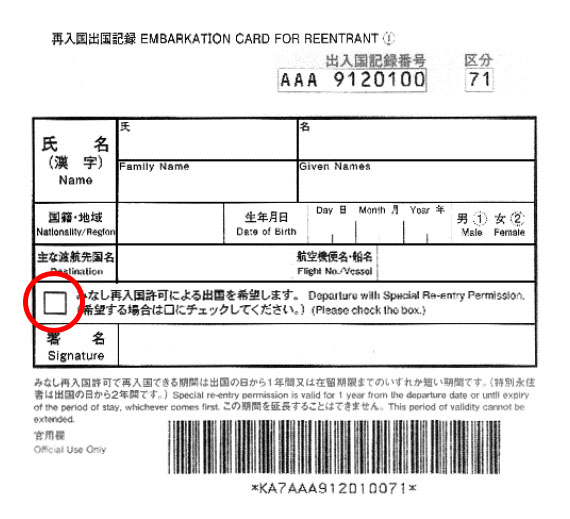 If you are temporarily leaving Japan, please make sure to present your Residence Card or the Certificate of Alien Registration to the immigration personnel at the port of departure.

Before temporarily leaving Japan, be sure to obtain permission from your academic advisor and notify the administrative office of your faculty/graduate school.

You are still able to use the Special Re-entry Permission process even if you have applied for an extension to your period of stay and wish to leave Japan temporarily during the processing period.
4. Visa Consulting Service
The University of Tokyo offers a Visa Consulting Service for international students who have questions and concerns regarding their visa. Please refer to their website for more details of visa consulting service.
For more information regarding visa, please refer to International Student Handbook.