Cost & Aid
Undergraduate Program Fees
| | | |
| --- | --- | --- |
| Admission Fee | 282,000 JPY | One-time payment (September) |
| Tuition Fee (annual) | 535,800 JPY | Two installments per year (November and May) |
Scholarship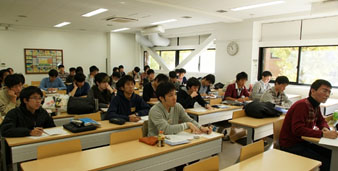 All students admitted to the GSC Undergraduate Transfer Program will be awarded the "Faculty of Science Scholarship". Under this scholarship, students receive 150,000 Japanese Yen per month during their time as a GSC student (for up to two consecutive years). This scholarship is provided to help pay for the admission fee and annual tuition fees, and to support daily expenses.
Housing Aid
In addition to the monthly scholarship, the University will arrange housing with fully supported monthly rent for GSC students (for up to two consecutive years). Please note that it is the student's responsibility to pay for any other fees such as utilities and internet. Further information will be provided to those successfully admitted to GSC.
Student Tutor and TA
Upon arrival, a Student Tutor will be assigned to each GSC student. The tutor will help students with their new life in Tokyo, such as assisting with residential registration and opening a bank account. TAs will help students adjust to their new academic life at UTokyo, mainly in lab sessions.
Japanese Language Education
The GSC Japanese Language Course, for beginner level students, is offered for GSC students to help with everyday life in Japan. In addition to this course, various levels of Japanese classes are offered throughout the University. While no prior Japanese language skill is required to apply to GSC, students are highly recommended to utilize the extensive Japanese language-learning opportunities available during their stay in Japan.