January 16, 2019
GSC Seminar 16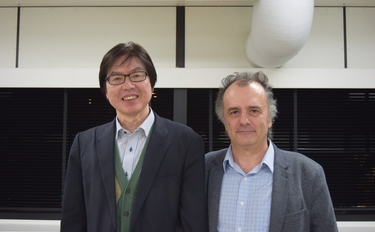 Photo: Prof. Hasegawa and Prof. Dragoe
Title:
"Thermoelectric materials"
Lecturer:
Professor Nita Dragoe
University of Paris Ⅺ, France
Host:
Professor Tetsuya Hasegawa
Department of Chemistry, Graduate School of Science
Abstract:
In this class I will describe broadly the thermoelectric effect and what are the principal properties required to use this effect for practical applications. Key parameters such as thermoelectric (or Seebeck) effect, electrical conductivity and thermal conductivity will be reviewed.
Several thermoelectric materials that are good candidates and examples of applications will be discussed together with an outline of current research areas related to this topic.