January 17, 2017
GSC Seminar 13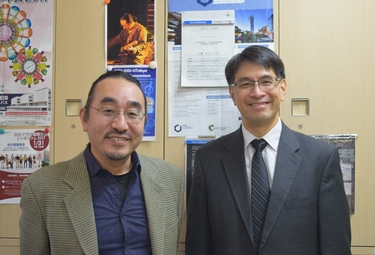 Photo: Prof. Cheng (Right) and Prof. Suga (Left)
Title:
"α-Helices: Structure, Stability, and More"
Lecturer:
Professor Richard P. Cheng
Department of Chemistry, National Taiwan University
Host:
Professor Hiroaki Suga
Department of Chemistry, Graduate School of Science
Abstract:
This lecture is intended to provide an introduction to the α-helix. The lecture will start off by introducing the 20 canonical amino acids, followed by condensing amino acids into peptides and proteins. Discussion on non-covalent forces and conformational preferences will lead to the α-helix structure. Statistical mechanical treatment of the equilibrium between the α-helix and random coil will be covered including a discussion on end capping. The lecture will then turn to associating multiple α-helices to form coiled coils (i.e. helical bundles). Recent examples on building bioactivity into single α-helices and using coiled coils in generating nanostructures will be given in the end.