August 10, 2016
[Event Report] GSC Graduation
Graduation Thesis Presentations by the First Cohort of GSC Transfer Students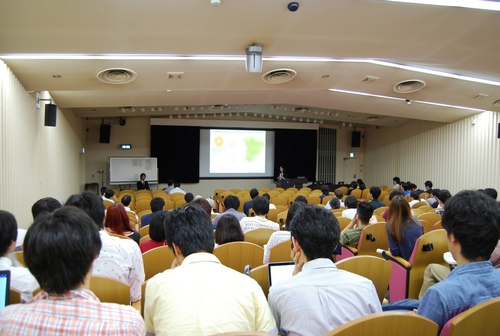 In a culmination of their two years on the program, the first cohort of GSC Transfer Students presented their graduation thesis work to a large audience of students, staff and faculty in the Department of Chemistry on July 15th, 2016. Each student gave a seven minute presentation about the unique research they had conducted under the supervision of a GSC professor in their final year on the program. Their thesis presentation was followed by a two-minute discussion period in which faculty and audience members asked questions about the student's research. The in-depth knowledge and outstanding presentation skills demonstrated by the students reflected not only the time and effort invested into their research but also their potential to succeed as future global leaders in the sciences.
The first batch of transfer students on the program entered the School of Science in October 2014 and will have their official commencement ceremony on September 16th, 2016 at Yasuda Auditorium, the University of Tokyo. However, a small graduation ceremony within the Department of Chemistry was held for the students following their thesis presentations. The opening speech was given by Professor Hiroo Fukuda, Dean of the School of Science, in which he emphasized the significance of their being the first generation of students on GSC and their immense contribution to the success of the program.
Each of the seven students then had a chance to share his or her own thoughts on the past two years on the program. Many of them expressed that being a part of GSC was an incredibly special and life-changing experience. They also spoke about their various experiences and accomplishments, from moving to another country and learning another language to overcoming their weaknesses and gaining a strong work ethic alongside a lifelong thirst for knowledge. Furthermore, the students felt that they had created invaluable friendships with not only their classmates but also the professors on GSC, who were always supportive in every situation.
The final speech was given by the Vice Dean of the School of Science and GSC Coordinator, Professor Kaoru Yamanouchi. After commending their thesis presentations, Professor Yamanouchi conveyed his deep appreciation to the students for coming onto the program and exceeding his expectations by exceling both academically and socially at the University of Tokyo. He was especially impressed with the future paths that the first cohort of GSC Transfer Students would take, three continuing onto the graduate program in the Department of Chemistry at UTokyo, three pursuing graduate studies at esteemed institutions abroad and one having successfully secured employment in Japan. Professor Yamanouchi also echoed the sentiments of the students, saying that as a friend, he would continue to support them in their future endeavors.
At the end of the ceremony, students took commemorative photos with GSC faculty and staff.
We would like to congratulate each of these students on their exceptional thesis presentations and look forward to seeing their future accomplishments in the international world of science.
Further details about the commencement ceremony in September can be found here: http://www.u-tokyo.ac.jp/en/news/notices/notices_z1301_00005.html