January 12, 2016
GSC Seminar 11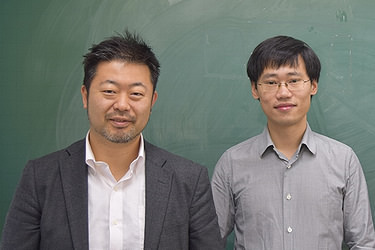 Photo: Prof. He (Right) and Prof. Goda (Left)
Title:
"Introduction to Cellular Biophotonics"
Lecturer:
Professor Hao He
Med-X Research Institute
School of Biomedical Engineering
Shanghai Jiao Tong University
P.R. China
Host:
Professor Keisuke Goda
Department of Chemistry, Graduate School of Science
Abstract:
With great progresses in super-resolution microscopy, deep-tissue imaging, and other Biophotnics advances, we are entering a new era in life science in which technological development now allows us to obtain better - clearer, deeper, and more - information and even to manipulate natural lives by lasers. Optics is powerful and interesting. Now live cells can be observed with molecular and structural information at a resolution of 10 nm, a whole brain tissue can be presented with every detail of axons, neurons and astrocytes, and tumors inside animals can be detected at single-cell level even in the circulating system. Lasers can provide all those specific insights with little disturbance to the original biological systems. But, if necessary, lasers can also manipulate those samples like an optical lancet, to do cell surgery, cell signaling modulation, and tissue engineering. In this lecture, those interesting advances in Biophotonics will be introduced. Specifically, discussions on potential biomedical applications will be also presented.