Overview
The Forefront Physics and Mathematics Program to Drive Transformation (FoPM) is a 5-year integrated Masters–Doctoral degree program that maximizes the potential of basic science specialists by providing them with the skills to exert a wide influence on scientific and social innovation.
FoPM students will become creative scientists with a broad perspective and a high level of specialist knowledge in their chosen fields. We expect our graduates to play leading roles in the future of academia and all other business sectors in their future careers.
Push through frontiers to transform science
FoPM uses state-of-the-art physics and mathematics as tools to cultivate flexible, logical, and non-biased thinking. A thorough grounding in physics and mathematics equips FoPM students with the skills and knowledge to push through scientific frontiers and achieve game-changing breakthroughs in their research.
As specialists in physics and mathematics, the fundamental basis of all of the sciences, FoPM students are in the ideal position to communicate across subject and language barriers. We thus challenge them to work internationally and with scientists in other fields to develop creative new ideas that will transform science and society.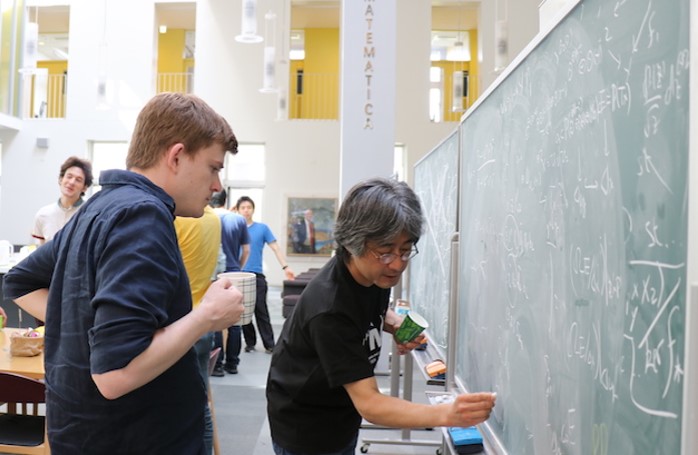 ©︎2020 Kavli IPMU
Advance social innovation through basic science
Scientific innovation in physics and mathematics has already transformed the world that we live in. The development of the CT scanner, optical fibers, blue LEDs, cryptographic communication, and even the internet would not have been possible without the contribution of these basic sciences.
We encourage FoPM students to continue this trend and take on the urgent challenge of solving the major problems—climate change, the energy crisis, sustainable development—facing our society today.
Through training in physics and mathematics, FoPM students develop logical thought processes and the ability to solve and identify new problems. These skills do not limit them to a career in research. We look forward to our graduates' success in business, entrepreneurship, politics, healthcare, and more.
The MEXT WISE Program
FoPM was selected for the MEXT Doctoral Program for World-leading Innovative and Smart Education (WISE Program) in 2019.
The WISE Program aims to produce Doctoral graduates (or "knowledge professionals") who will play leading roles in next-generation knowledge creation and rise to the challenge of solving the major problems facing our society today. They will be educated in world-class integrated Masters–Doctoral programs that take advantage of the individual universities' strengths while also encouraging collaboration across disciplines, business sectors, and national boundaries. These programs are expected to promote innovation and reform of graduate-level education and lead to the sustainable development of internationally recognized research and education hubs in Japan.*
* For more information about the WISE Program, please see the JSPS website (in Japanese).