Studies the biological mechanisms and phenomena of the myriad of organisms that have appeared and evolved on Earth over the past four billion years. Students specialize in flora, fauna, or anthropology, and study animals and plants in their natural environment.
【Academic features】
Curriculum
The Department of Biological Sciences maintains a high ratio of faculty to students, which allows students to experience an individually tailored educational and research environment. In their second year, students learn the basics of biology, and in their third year, choose to enter one of two courses, A or B, which emphasize anthropology and fundamental biology (zoology and botany) respectively, and in which they can select from a range of practical activities. The A course includes training in human anatomy carried out in cooperation with the School of Medicine, as well as field excavations and primate behavior observations, while the B course includes direct contact with animals and plants and on-site training at the Misaki Marine Biological Station and the Nikko Botanical Gardens. The Department of Biological Sciences is located in Faculty of Science Building 2 on the Hongo Campus, where there is a room specifically allocated to third-year students, so they can study biological sciences while strengthening their networks with their classmates.
In their fourth year, students are free to choose their own laboratory, regardless of whether they studied the A or B course. In the first half of the year, students do two laboratory rotations, and in the second half of the year, they spend six months on their graduation research. Some students even go abroad to study during the first half of the year, emphasizing the importance of independent learning. Our faculty members specialize in a wide variety of fields, and their research is characterized by a diverse range of perspectives, from the micro to the macro level―molecules, organelles, cells, tissues, individuals, and populations―exploring the evolution of biological phenomena and molecular mechanisms. As a graduate student, you will be able to immerse yourself in science by belonging to one of the world's leading laboratories in these diverse research fields. If you are interested in the Department of Biological Sciences, you should take general subject E, Introduction to Modern Biology.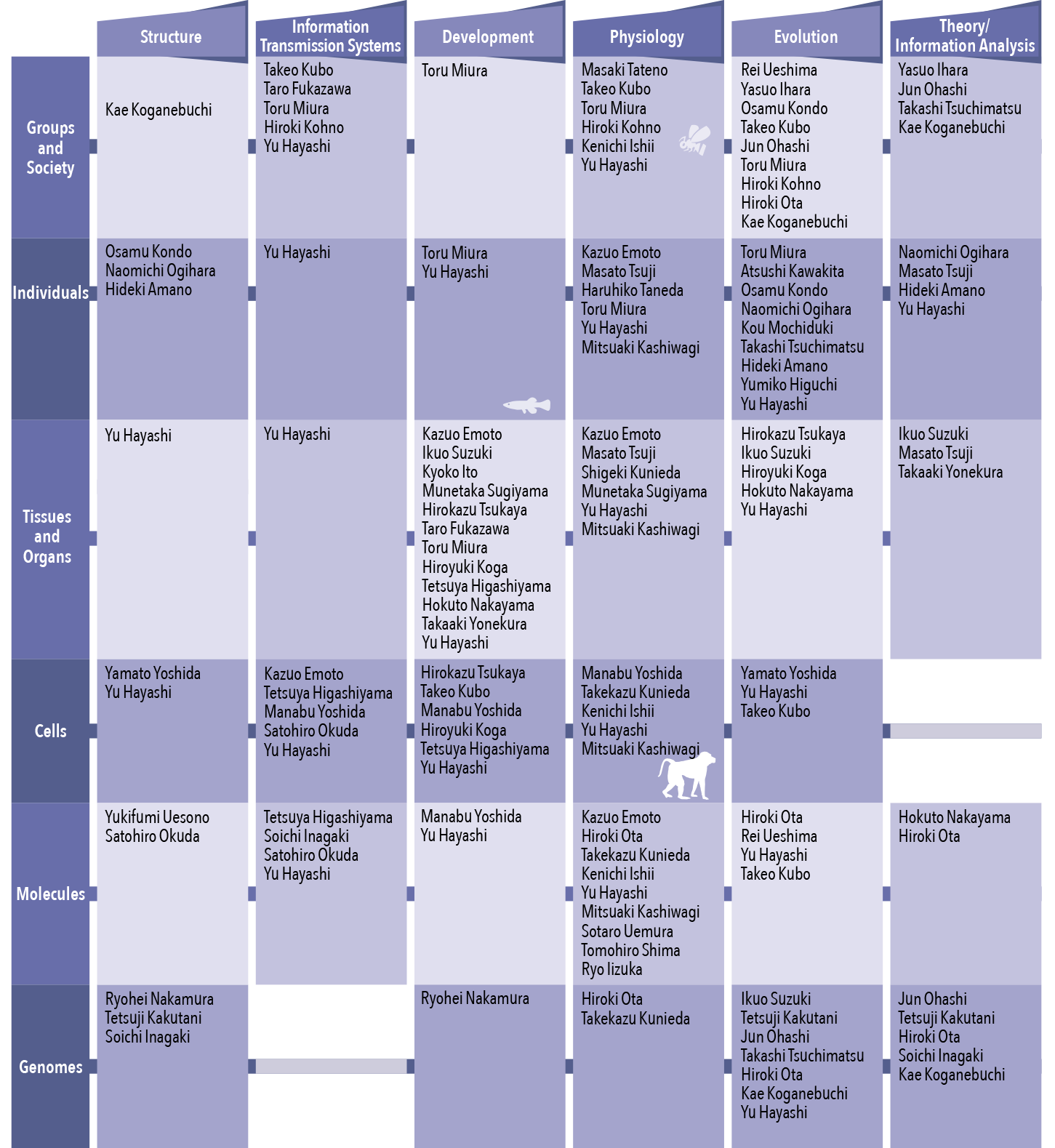 ---