From a passion for physics and chemistry to biology
I've been very interested in healthcare related fields, such as pharmacy and medicine, since high school. I also had some interest in research work, so I decided to try to become a student at the University of Tokyo as I felt that would be the best environment for me. However, my favorite subjects when I was in junior and senior high school were physics and chemistry, so I wasn't exactly passionate about biology (laughs).
When I was a first-year undergraduate student, I got to know a very kind professor who taught one of my classes. I visited his laboratory many times and found myself thinking that it would be nice to work in research. His research field happened to be in bioinformatics and systems biology, which is a relatively new field that I didn't know much about at the time. However, I thought that the field's mathematical approach to understanding living things and its wide range of applications to healthcare was fascinating.
A long-held interest in an academic experience abroad
I applied to UGRASP when I was a fourth-year undergraduate student. When I told Professor Tatsuhiko Tsunoda what kind of academic experience I wanted abroad, he presented me with many lists of potential professors to work with. One list included Professor Zlatko Trajanoski, a professor at the Medical University of Innsbruck in Austria who was doing collaborative research with a professor I worked with at the University of Tokyo Hospital. I decided to do research in his lab and went to Austria through UGRASP right before I graduated.
Conducting research in the midst of music and nature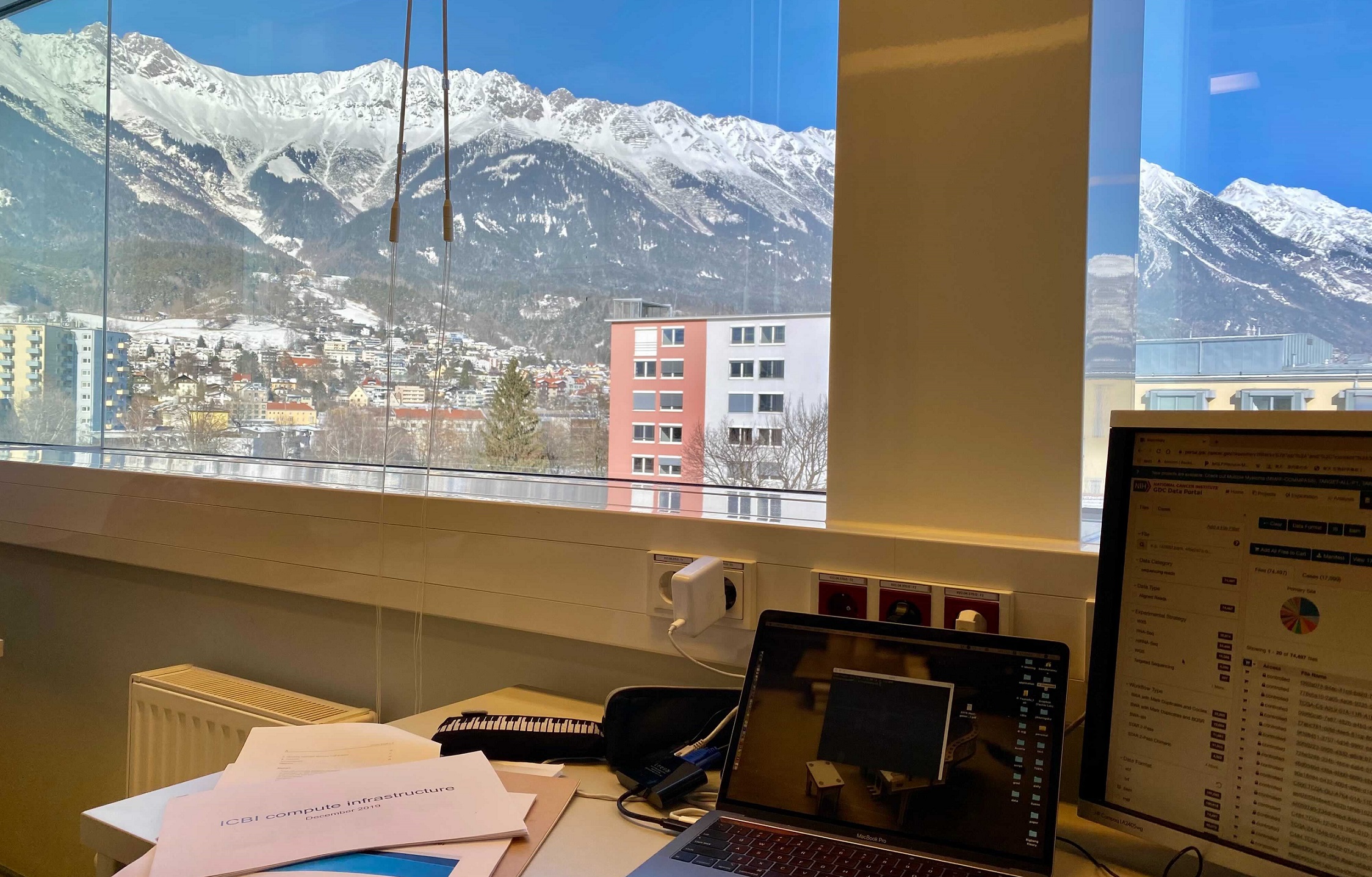 The research I did in Austria looked at the causes of cancer and treatment. To put it simply, why people get cancer and their treatment varies from person to person. A cancer treatment may work for one person but not another. We believe that this may be caused by differences in genomic information; however, genomic information is so vast that it's not easy to find where the exact cause lies. Therefore, researchers are using programming languages to create an analysis pipeline that can identify features that need to be considered when creating a treatment plan based on an individual's genomic information. This type of research is currently being used in healthcare fields. In Professor Trajanoski's laboratory, I was learning a new programming language while writing my own code to help develop a cancer vaccine for immunotherapy.
Innsbruck is a city filled with nature. I remember taking ropeways up mountains on weekends and marveling at the beautiful view of the nature and city below. I would also sometimes go to a Japanese restaurant I lived nearby and enjoy rice and miso soup.
I usually had lunch at the university's cafeteria with the other lab members. The lab had international students from various countries and a student from Greece looked after me. I often felt that I needed to study English a little more as conversations in the lab, and of course research, was in English. However, people usually use German in Austria, so I found it a bit difficult to go grocery shopping or buy bread.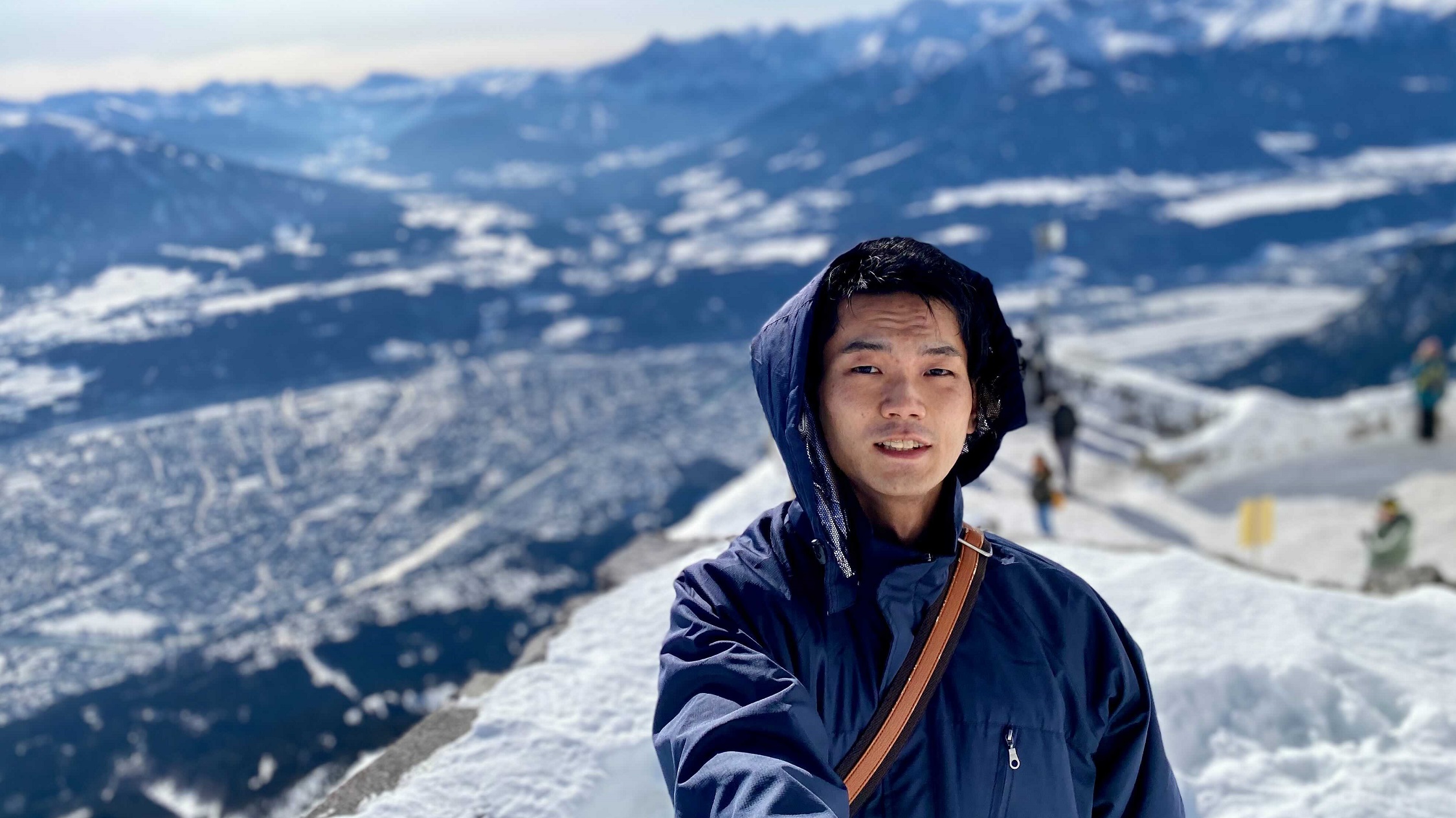 I wanted to go to Vienna since I play the piano, which is one reason why I chose to do research in Austria. Vienna isn't that far from Innsbruck, so I was able to take the train there on my days off and feel the atmosphere of the city of music. It was a great experience.
Experiencing the pandemic while overseas
The coronavirus pandemic started right around when I was nearing the end of my time abroad. Due to the pandemic, I had to leave the apartment I was renting earlier than expected. I contacted the International Liaison Office at the School of Science as well as Professor Tsunoda to try to figure out what to do. Thankfully, Professor Trajanoski let me stay at his place until I went back to Japan. Unfortunately, although I had mostly finished summarizing my research, I was unable to present it while I was in Austria. Once the pandemic settles down, I hope to get in touch with Professor Trajanoski and the other lab members again.
Future aspirations
Conducting research in Austria was a new challenge as it differed from what I had done before. I was able deepen my understanding of the connection between biology and healthcare by gaining programming experience to create a human genome analysis pipeline.
"Following graduation, I want to have more experiences abroad and then continue doing research after I come back to Japan."
After my time on UGRASP, I feel like this idea has become more crystallized.
For instance, after doing a postdoc abroad, I would like to come back to Japan and start my own laboratory. I think it would be nice to have discussions about research with members of my lab and strengthen our relationship through events, and so forth. I also want to stay involved with research in healthcare, which has been my dream since childhood.
A message for those who want to experience research or education abroad
If you are thinking of doing research or studying overseas, don't be afraid to take initiative because only then will you have the chance. Living and gaining research experience abroad may be motivation enough, but you can also use your hobbies and interests as a driving force to take on this challenge. If you don't know where to go or what research field to choose, it's a good idea to consult with your academic advisor.
It's really important to study English as research laboratories may have students from different countries and you will need to use English to communicate. Once you decide to go abroad, you'll naturally start studying English and when you're living there, you'll get used to speaking in English and will be able to communicate more.
The School of Science has many international programs like UGRASP for students to experience research and education in another country. They also provide plenty of support for your everyday life during your stay. If there's anything you're unsure about, talk to the International Liaison Office.
UGRASP is a short-term program for fourth-year undergraduate students in the Faculty of Science that began in 2018. This program aims to help students engage in collaborative scientific research at a university or research institute outside of Japan.
※Year of interview:2021
Interview and text: Kanako Takeda (Translation: Kristina Awatsu)
​​Photography: Junichi Kaizuka
---