The road to becoming a GSGC student
I wanted to see what life outside Taiwan was like, so I did my undergraduate degree at Peking University in China. After finishing my degree, I wanted to experience living in another country. I heard from my friends that some universities in Japan offer graduate programs in English and don't require any Japanese language ability. When I was looking for these programs, I came upon the Global Science Graduate Course (GSGC) on the University of Tokyo's School of Science website.
The University of Tokyo is a world class university and I was drawn to the School of Science as it has some great professors and a lot of research groups working in theoretical particle physics, which I majored in. I looked into the research specializations of each professor in the Graduate Department of Physics and decided that I wanted to apply to GSGC and for my supervisor to be Professor Koichi Hamaguchi, who is a member of the High Energy Physics Theory Group and mainly works in phenomenology.
I emailed him to ask if I could be his student and explained how my research interests aligned with his research. There are some researchers specializing in more theoretical things like string theory, but I wanted to do research that can be tested, which is possible in phenomenology because we can confirm theories using experiments. I communicated with Professor Hamaguchi over email and Skype and felt that I could speak freely with him, and he was very nice, so he was someone I wanted to work with.
I was very excited when I found out I got into GSGC. Although there are other graduate programs in the University of Tokyo that are in English, most don't have a scholarship so I would need to apply for one after being accepted. Since students on GSGC receive a monthly scholarship, I felt relieved. I could focus on studying since I knew I would be fine financially. My parents were also supportive of my decision to join GSGC, especially since my father also worked in research and understood that if I wanted to become a researcher, I would need to move to different places over many years.
From tourist to resident
I had visited Hokkaido and Osaka in Japan before moving here for graduate school. I hadn't been to Tokyo before, but I knew from manga that it's a very big city and crowded. However, after I moved here as a GSGC student, I stayed in my dormitory on Hongo Campus for the first half year and I didn't see the city a lot because I felt I should focus on my research. I also wasn't confident in my Japanese language ability.
I haven't experienced any culture shock yet because there are many other foreign researchers and students in our research group. When I first arrived, I was also assigned a tutor, who is a student in our lab. The tutor helped me with a lot of things, such as getting a cell phone, opening a bank account, and going to the ward office to register my address.
I also took a Japanese language course for one semester for new international students, which was provided by the Graduate Department of Physics. After I completed that course, I joined a Japanese language course in the School of Engineering. Because of the pandemic, the lectures are held online. Each class has about 10 students so I can speak in Japanese a lot with both the teachers and my classmates.
The more challenging the better
One of the best things about GSGC is that I can pursue whatever research I want. I am doing research in theoretical particle physics, also called theoretical high energy physics, which looks at the most fundamental particles and their interactions to explain how the world works. Researchers in this field are trying to extend the Standard Model of Particle Physics and use experiments to test it. For example, there is a large hadron collider called LHC in Europe, which is where experiments are mainly conducted currently.
We can also use cosmological observation to test our models. For example, some models with higher-dimensional spacetime may result in some special spacetime structure, and then, they may result in some gravitational waves. On the other hand, the Standard Model does not explain dark matter. Axion, which is a solution to strong CP problem in QCD, is one of the dark matter candidates. If axion exists, it may be detected.
At the moment, I am working on a Grand Unified Theory (GUT). In the Standard Model, we have three kinds of forces: strong, weak, and electromagnetic. GUT is a model that unifies all these forces, and unifies quarks and leptons. Unification has been one of the main goals of physics. For example, physicists in the past have unified electric and magnetic forces as well as electromagnetic interaction and weak interaction.
GUT still has many problems. There are less people working in this field now than before because there are already a lot of models and it's hard for experiments to test them, which makes it more and more difficult to have better models. However, these challenges are why I'm interested in physics and want to work in this field.
In our research group, we have a lot of seminars where students discuss books or papers. I think that is very helpful, because we can learn something very closely related to our research, as well as communicate more with each other and ask questions. In GSGC, we also have a second supervisor, which allows us to learn from another professor. The second supervisor can be from a different lab, but my second supervisor, Professor Takeo Moroi, is in the same lab and also does research in theoretical particle physics.
Life as an international graduate student during COVID-19
Because our research group focuses on theoretical research, we don't have to do any experiments. All of our research can be done at home, so seminars and meetings are now online. I usually just come to campus maybe once or twice a week because it's sometimes hard to concentrate on research when I'm always in my dorm.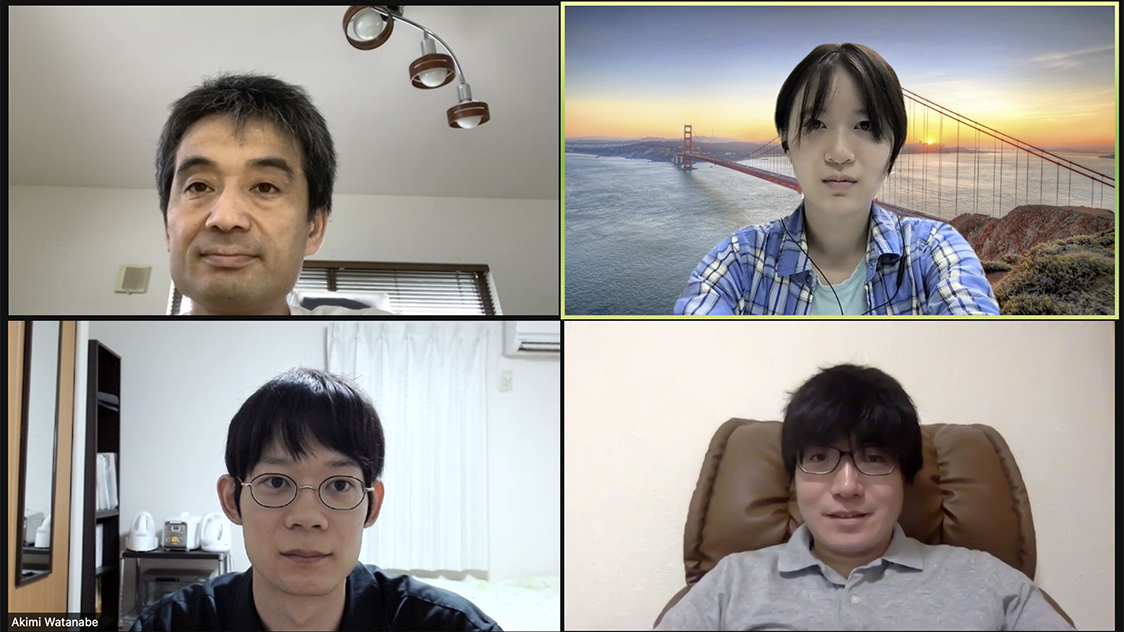 I didn't expect there would be a pandemic so I thought that maybe after doing research for one year, I would have enough results to join conferences or workshops in other countries. Luckily, everything was moved online, so I was still able to give some talks and presentations.
Due to the pandemic, I also defended my master's thesis online from home. I think because I already did a lot of presentations at workshops, the presentation part was not very difficult for me. However, I was still very, very nervous. Three committee members asked me questions. Some I could answer but others were a little bit hard, so I told them I didn't know, but I could explain what was related to the question and my thoughts.
A fan of Japanese culture
My favorite part of Japan is manga and I like buying manga goods. I started to read manga when I was in elementary school. The first one I read was Naruto and after that I gradually read more like Bleach and One Piece. Now I'm reading Jujutsu Kaisen and Kimetsu no Yaiba.
I'm also part of the Kendo Club on Hongo Campus. I started to learn kendo when I was in Beijing. When I first arrived in Japan, I thought that the University of Tokyo might have a kendo club since kendo comes from Japan. I found the club's website, which was in Japanese, but I could recognize the kanji characters and generally understand their meaning. I emailed the club and was able to join. In the beginning, all the club members tried to speak in English with me but gradually, after I started to learn Japanese, we began to speak in both English and Japanese.
Plans after GSGC
I want to still do research in the future after graduating with my PhD. Maybe I'll need to do a postdoc first and after a few years find a place where I can be a researcher or an assistant professor. I want to go to as many places as I can, so maybe I will try to find a job in Europe or North America.
Advice for prospective GSGC students
The School of Science provides a very good research environment for students, and GSGC also helps us with Japanese and other information. If you want to apply, I think the most important part is to find a supervisor you really want to work with. GSGC is also research-intensive, so you should have strong research skills as well.
※Year of interview:2021
Interview and text: 粟津クリスティーナ
​​Photography: Junichi Kaizuka
---