Oct 11, 2017
Winners of the School of Science Image Contest 2017
Gold Medal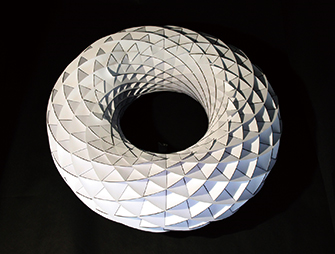 A paper model of Villarceau circles
Toshitake Kohno, Professor, Graduate School of Mathematical Sciences
Villarceau circles are formed when a torus (a donut-shaped curved surface) is cut diagonally.
This image depicts many paper Villarceau circles layered on a torus.
Comments from the Open Campus Executive Committee Chair:
This assembled paper expresses the beauty of geometry.
I wonder how this shape is created by such a combination.
The shadow created by the light projected on the lattice pattern complements the image's beauty.
Silver Medal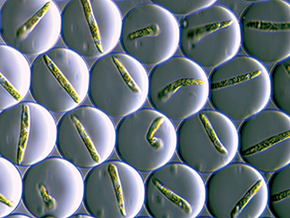 Euglena cells in numerous water droplet cages
Keisuke Goda, Professor, Department of Chemistry
Akihiro Isozaki, Project Researcher, Department of Chemistry
In this image, each Euglena cell is confined within a small water droplet whose size is equal to the cross section of hair. By using our technology, we are able to generate and collect thousands of water droplets per second that contain Euglena cells. Each Euglena cell is then analyzed with an optical microscope.
Comments from the Open Campus Executive Committee Chair:
Each small water droplet containing a Euglena cell resembles a crystal ball with a green nucleus.
Are we able to see the uniqueness of each Euglena cell beyond its crystal ball?


Silver Medal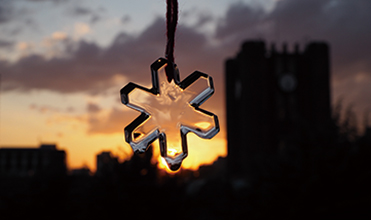 Ice pendant
Kazuki Komatsu, Associate Professor, Geochemical Research Center
Noriko Shiraishi, Master's Program Graduate (2015), Department of Earth and Planetary Science
This ice pendant was made as a present for kindergarten children in an experimental demonstration. In the experiment, a pure ice plate was sandwiched between a pair of copper molds, causing the ice to melt immediately and form a hexagonal piece of ice that resembled a flower.
The children asked, "Do it again!". Their shining eyes made me recall how science begins.
Comments from the Open Campus Executive Committee Chair:
The kindergarten children were happy to participate in the experiment.
The ice pendant's jewel-like beauty is perfectly captured against the sunset sky.
Science begins with an innate sensitivity to something beautiful and mysterious.
― Office of Communication ―