Message from the Program Coordinator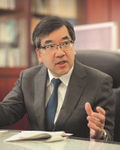 Revolutions in science and technology during the 20th century have brought wealth and prosperity to the world. At the same time, the resulting dramatic expansion of human activity has also brought forth global problems that threaten the sustainable development of human society. Our country, in particular, has experienced a rapid economic growth after World War II, thanks to the high standards of our scientific technology, cementing its place as a leading industrialized nation. However, today we are faced with new challenges, such as the falling population of its aging society, the unprecedented disaster brought on by the Great East Japan Earthquake and the associated environmental pollution caused by the nuclear power plants.
Traditional academic disciplines do not provide solutions to problems of such scope; if we hope to tackle them, it is essential to cross traditional academic boundaries. The challenges facing Japan today reflect humanity's common fundamental problems: how to preserve the global environment, how to protect human lives and health, how to prepare against natural disasters and terrorism to attain a state of safety and security, and so forth. To overcome these difficulties will require from Japan such new knowledge and technology as would also aid sustainable development in the rest of the world. Hence by tackling our own domestic issues head-on, we can turn even our crises to our advantage, increasing Japan's trust and presence in the global community.
We have come to see the need to foster young minds that can take leadership in such activities. To prepare for such roles, each student must engage their mind fully in challenging problems to nurture the intellect required to grasp the fundamental issues, as well as train their skills in problem solving. The arena of cutting-edge fundamental research, with its day-by-day global completion, is an ideal training ground for logical thinking, pursuit of essential knowledge and a broad-vision capacity in seeking out solutions. By adding to this strength, a focus on crossing existing discipline boundaries, our program aims to further enrich the participants' graduate education.
We have turned to photon science as an ideal catalyst for fostering an interdisciplinary vision. Laser technology, invented half a century ago, still continues to develop with evermore momentum today. These technological innovations fuel the current rapid expansion of the field of photon science, which in turn leads not only to advanced research tools in numerous fields of natural sciences (e.g. bioscience, space science and high-energy physics) but also new technologies that hold up the foundations of our modern society (e.g. telecommunications, environment and energy). Furthermore, we can also envision the creation of entirely new technologies (e.g. quantum computers). The fundamental, innovative and transverse nature of photon science is something that we will fully capitalize on. Studying in the ALPS program will have a positive impact on each student's doctoral studies, enriching and expanding their research. We are confident that what the students learn through our program will prove useful in various stages of their lives after obtaining their PhDs.
It is our wish to provide our students, each brimming with dreams of mastering the world of science, with a secure environment in which they can study, as well as a broad range of opportunities for their future pursuits. We are very much looking forward to welcoming motivated students into our program.
December 27, 2011
Makoto Gonokami (Program Coordinator)