Message from the Dean of the Graduate School of Science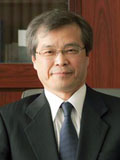 The JSPS Programs for Leading Graduate Schools aim to produce doctoral graduates with a firm academic foundation and highly sophisticated specialization, who are unbounded by the walls of existing scientific fields and driven to open up new realms of science and academia, as well as capable of thinking flexibly and taking on central roles not only in academia but also in industrial sectors and policymaking fields. The Advanced Leading Graduate Course for Photon Science (ALPS) is one such program provided by the joint efforts of the Graduate Schools of Science and Engineering. The ALPS program, in particular, by using photon science as a common thread to tie together various disciplines, is designed to offer an ideal training field for absorbing both the philosophies and methodologies of science, and to foster young minds eager to explore new arenas in which to apply their competence.
We have been blessed with a promising start, as a large number of highly motivated students have applied to join the program. All ALPS instructors are ready to make full efforts to improve and enhance the program, so that it will become ever more effective in meeting the students' needs.
The age avidly calls for doctoral graduates equipped with an unforeseen scale of global capacities. It is our hope that this program will challenge many graduate students of the University of Tokyo to believe in their strengths, evolve into driving forces who expand the frontiers of science and engineering, and ultimately make major contributions to the human society.
May 2012
Hiroaki Aihara, Dean of the Graduate School of Science